Music Connection Magazine
Vol. XXIX, No.09 - 04/25/05 to 05/08/05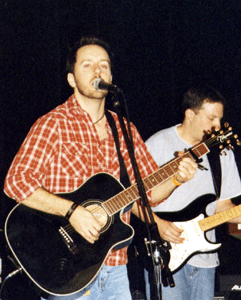 Photo By: Laura Phillips
Danny Hamilton & the Mudslingers: Mainstream modern country.
Danny Hamilton & the Mudslingers
Hard Rock Cafe
West Hollywood
Contact: Hotline, 310-415-0647; danny@dannyhamilton.com
Web: www.dannyhamilton.com
The Players: Danny Hamilton, lead vocals, rhythm guitar (acoustic), harmonica; Bill Robinette, guest lead guitar; Kalin Krum, bass; Paul Arrieta, drums; Russell Ali, hand percussion, congas, maracas, bongos, djembe, tambourine; Christopher Lopez, keyboards.
Material: Danny Hamilton & the Mudslingers focus on lonely themes, with love-lost lyrics. Other subjects, like corporate whores, are touched upon, but most of the songs are similar to broken-heart therapy. Opening fast with "Bury the Devil," followed by "Ace" (which received indie radio play), the set built to "Smoother Than You," the band's best song.
The material is mainstream enough for modern country with catchy lyrics such as "I was thinking about a lover that's so far gone." Near the end of the set the band went off the mainstream track with "Before We Burn" -- one of the strongest performed songs of the night.
Musicianship: Hamilton's passionate voice conveys feelings behind the lyrics, and Ali's multiple changes of instruments and tribal sounds are sensational, helping to establish a strong connection with the audience. The acoustic/electric guitar combo, along with keyboards and percussion, add significantly to the ensemble's overall sound. Though primarily a modern country act, this group also touches upon everything from folk to rock.
Performance: Hamilton's talent was enhanced by his relaxed nature and direct eye contact. He was obviously at home onstage and made smooth transitions between songs. An excellent rendition of the Rolling Stones' "Sympathy for the Devil" was performed as the finale. This surprised the audience -- coming totally out of left field -- proving that this group can also rock.
Summary: What makes this band unique is the blending of country, early rock roots and tribal sounds. Danny Hamilton & the Mudslingers would be ideal for a Texas music festival barbeque. In fact, some of their songs are suitable for square dancing while others are campfire sing-alongs. But, what makes this act most enjoyable is the energy and emotion they put into performing.
-Laura Phillips